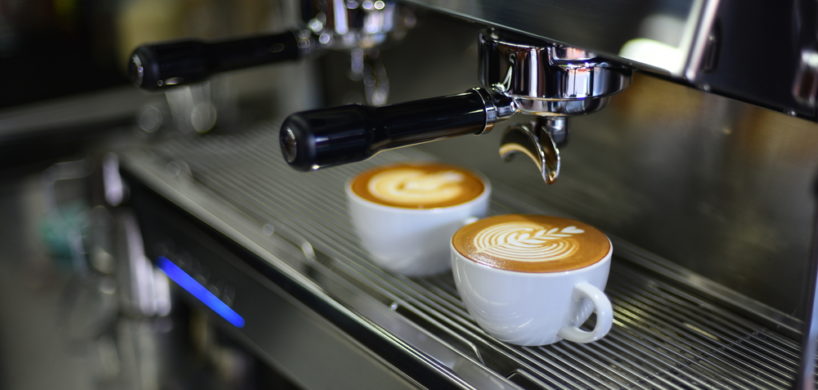 Lavazza A Modo Mio Premium
Lavazza A Modo Mio coffee machines, made in association with Saeco, have an innovative extraction process that captures the best from the coffee for an espresso that's always creamy and full-bodied. Compact, elegant and easy to use, Lavazza A Modo Mio coffee machines are available in a range of models and colours. The machines utilise capsule technology to ensure freshness, grind, tamping and strength consistency.
The Lavazza A Modo Mio Premium line offers:
• milk frothing capabilities
• pre-dosed coffee button
• electronic temperature control
• 'Energy save' feature
• 2 year manufacturer's warranty
• uses Lavazza capsules
Exprelia Stainless Steel
With full bean-to-cup customization The Exprelia is always ready to serve your favorite coffee specialty. Whatever you'd like, it's done with a touch of a button, thanks to immediate beverage selection interface – and instantly prepared thanks to the machine's double boiler.
The Exprelia Line offers:
• Double boiler for instant steam
• Integrated automatic milk function
• SBS: patented adjustable espresso crema and body structure
• Full bean-to-cup customization
• Immediate beverage selection
• Automatic cleaning and de-scaling
Xelsis
Enjoy being served as at the finest café: the Saeco Xelsis perfectly adapts to your personal taste. The Xelsis leads the way into a new fully automatic coffee machine era. The combination of stainless steel and chrome endows it an elegant and noble touch. 6 one-touch beverages can be personalised by 6 user profiles. The wide and easy-to-read display allows one-touchfunctionality and intuitive handling.
The Xelsis Line offers:
• Six user profiles with up to nine specialties each
• Full bean-to-cup customization
• A dynamic multimedia interface
• Elegant, subtle design
Royal Professional
If you prefer a cappuccino or latte, the Royal Professional has Rapid Steam® technology which means that there is virtually no waiting time to froth milk, use the steam wand or the built-in Cappuccinatore which makes it easy to steam and froth from a fresh milk source, straight into your cup.
The Royal Professional Line offers:
• Adjustable coffee dispensing unit, pre-grinding of dose
• Automatic decalcifying cycle
• Cappuccinatore
• Saeco Aroma System
• Electronic programming of level of coffee per cup
• Digital display, Cup-warming plate
Accademia Gaggia
Accademia Gaggia will make you a real barista able to satisfy any desire: from the traditional espresso to a creamy cappuccino… and much more! Rise through the ranks with the Gaggia Accademia, a smartly appointed super automatic espresso machine, whose charming good looks and responsive performance are sure to earn it place at the top of its class.
The Accademia Line offers:
• Two separate boilers and the integrated auto-cappuccino jar.
• Stainless-steel front panel, durable metal frame, and a bright display.
• Seven fully programmable beverage selections to create a variety of customized beverages.
• Set milk parameters for normal, minimum, maximum or no froth.
• Control beverage strength and volume.
• Automated milk circuit cleaning and descaling cycles.
• Water Filter to prevent mineral and scale build up.